20 February 2023
Labelexpo Mexico 2023 to host pre-show webinar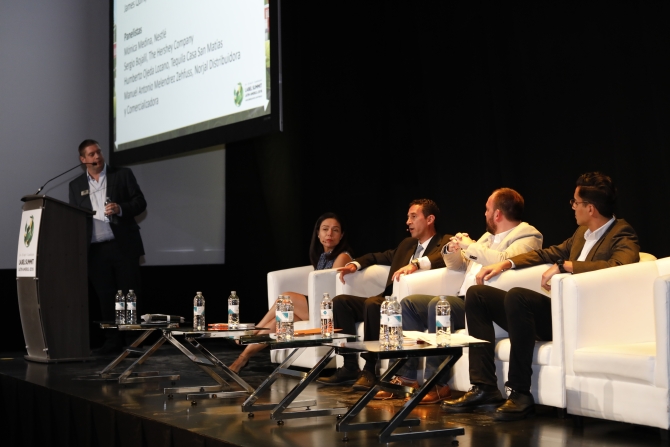 Click on image to download high resolution version
The organizers of the inaugural Labelexpo Mexico 2023 will host an educational webinar ahead of the show, due to take place over 26-28 April at World Trade Center, Mexico City.
The one-hour webinar, hosted in Spanish, takes place on Wednesday 29 March at 9-10am Mexico / 4-5pm BST, and will cover the label and package printing industry in Latin America post covid-19 pandemic. The session is divided into two parts; firstly, an in-depth panel discussion and live Q&A, chaired by freelancer writer and consultant James Quirk. This will examine the key trends in the region, M&A activity, and supply chain challenges.

Panelists comprise two leading converters from the region, Ari Vonderwalde, CO/CEO, Etiflex Mexico and Sandy Almirall, president of North America Region, All4Labels; plus Carlos Uribe, general director of Colombian self-adhesive label materials supplier, ARclad.

The second part of the webinar will be a show preview, also given by Quirk, providing further insight into those trends and a preview of what visitors will be able to see in action on the showfloor at Labelexpo Mexico 2023.

Mirco Mazzarella, Labelexpo Mexico event manager, commented: "We're extremely excited to host a webinar as momentum builds ahead of our inaugural Labelexpo Mexico. The industry is raring to go, and we anticipate our exclusive line-up of panelists will inspire other converter attendees from the region to experience this dynamic market first-hand and up-close at the show. I'd urge everyone to tune in to this exclusive webinar to find out more."

Echoing this, Quirk said: "The webinar will be a great opportunity to hear local experts discussing the trends and developments that are driving the label and package printing market in Mexico and the wider region, and to gain insight about the technology that will be on display at the show."

Almirall added: "Over the coming months, the overall Mexican market is expected to observe significant boost, driven by an increasing demand for manufactured goods and an upsurge in the disposable income of people in Mexico. This growth is expected to influence also the print label market positively. At All4Labels Mexico we have been investing in a new building and in new technologies to keep on serving the needs of our customers and to get prepared to expand our global presence, especially towards the US, which historically is Mexican main export market."

Vonderwalde said: "I considered taking part in the round table/webinar to share knowledge, help the industry to be able to grow, but mainly to give back some of the great and wonderful satisfaction and moments this industry has given to me."

ARclad added: "We are taking part in this webinar because we believe that it is an important platform where we can share with converter clients and the wider market about the self-adhesive label trends and product labeling. We believe in the dynamic growth of this industry, and this panel discussion is a great opportunity to learn how we are contributing towards this objective from the different links in the supply chain.

"Mexico is a very fast-growing market and of great strategic importance for ARclad. Carlos, with his experience in this industry and in his capacity as general director of ARclad in Mexico, will share his knowledge, based on the strong client relationships he has built and market challenges faced."

The webinar will be recorded and made available on demand on labelsandlabeling.com afterwards.

For full details of the webinar or to reserve a place, which is free to attend, visit: www.labelexpo-mexico.com/pre-show-webinar.